• dEDGE Post Scriptum •
The big man expertly snares the long rebound in both hands, pivots with elbows tucked and eyes focused on the target. The outlet pass is snapped with laser precision to the streaking point guard already nearing full-speed as he crosses mid-court. He is joined on the wings by a tandem of lengthy thoroughbreds as the trio races towards its goal. Without ever taking his eyes off his opponent, the ball is flicked deftly to his left, directly into the soft hands of the cutting, small forward. But the defense had anticipated such a move, having seen this firsthand a thousand times before and quickly repositions itself to prevent the uncontested layup. Meanwhile, the point guard has gone full circle through the paint and has exited to the far, right corner. The ball immediately swings back to the trailer, then to the opposite wing, never touching the floor. It quickly finds its way back into the point guard's waiting hands. As the defense tries to react yet again, it is already too late. The ball is aloft, it's high-arced trajectory locates the hoop, then slices through the bottom of the net. A mere 5-seconds have elapsed and Showtime has begun.
httpsvh://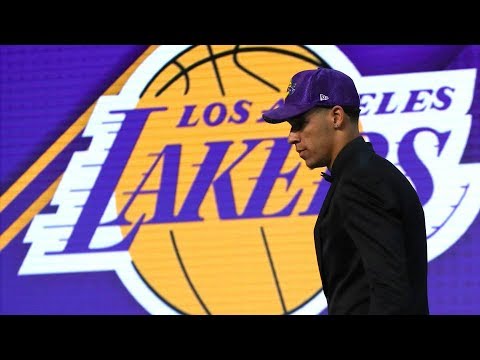 Video by ld2kVIDEOS
Instead of Magic, it's Lonzo Ball. Filling the wings are Brandon Ingram and Julius Randle. The big in the middle is Ivica Zubak. This is Showtime Part II, long overdue but just in the nick of time. The #2 pick of the 2017 NBA Draft has Laker fans all giddy and full of excitement. He hails from a single season at UCLA following a State title at Chino Hills High. The pass-first point guard is a throwback to 1979 when Magic Johnson's infectious smile and no-look passes took LA by storm. His court vision is unrivaled, his 3-pt depth is Steph-like, and his poise and leadership is precisely what the Lakers need. But what irks a good number of Laker fans is his brash and outspoken father. Overbearing, obnoxious and in your face, Lavar Ball's antics have brought a fair amount of hate down onto Lonzo's young shoulders. Never one to be intimidated or influenced by what others say, Lonzo simply shrugs off any mention of his dad as him just being him.
It wasn't that long ago when conventional wisdom led many to believe that Sidney Moncrief, and not Magic Johnson, was the safe and appropriate draft pick for the Lakers. There was no such thing as a 6′-9″ point guard. He wasn't quick, he couldn't jump and his outside shot was iffy at best. His flashy passing may have dazzled in college but it would never work in the NBA. His high-fives would succumb to the arduous NBA schedule and his toothy smile would diminish over time. It was still Kareem's team and it would be all-business, and that was that. Not only did Magic win his teammates over and prove all the doubters wrong, he rejuvenated the NBA and put it back on the map. Magic made basketball fun again, not only for the fans but for his teammates as well. He made it fun to pass in a league full of ball-hogging individual stars.
Lonzo Ball has those same "winning" qualities as Magic. Remove the player from the perceived distractions and you have a superstar ready to lead Lakers Nation back to glory. Staples Center will be rocking again with the Laker Girls gyrating in sync. Celebrities will flock for the best courtside seats while Jack roosts in his revered place. Purple and gold streamers will rain down, chants of MVP will echo through the arena and free tacos will become the norm again. If you weren't fortunate enough to have witnessed Showtime the first time around, you're in for a special treat. This will be Lakers basketball at its very best and thankfully, we have Magic back in place to lead us on this fast-break.