Shelly Niimi: The Machine Behind the Machine
• dEDGE Post Scriptum •
Sasha Vujacic may be absent from the 2011-12 Los Angeles Lakers roster and the NBA landscape in general, (Sasha is signed to a one-year deal with Anadolu Efes of the Turkish league with the team holding an option for a second year), but that doesn't mean there isn't a legion of loyal fans and followers tracking his every move. Enter Shelly Niimi, a loyal Lakers fan and a certified "VujaCHICK" who maintains Sasha's official website and his connection to fans worldwide but more importantly, here in Southern California, where Sasha left an indelible mark as a player as well as through his charitable endeavors. Shelly has been serving as the Managing Editor for sashavujacic18.com since this past September where she regularly updates fans on Sasha's whereabouts, his stats playing in the Euroleague, and the latest news involving The Machine.
I had the pleasure of chatting with Shelly recently and found her to be extremely driven and wildly passionate about everything that revolves around the LA basketball scene. She's just as vigorous and dedicated to her family, friends and enjoying life to its fullest. Besides her love for basketball, Shelly has an affinity for art and design with a background in DVD content, motion graphics and video development. "I really love working with photographs and motion graphics and I am working more and more with video and incorporating them into web content." She also has a keen interest in traveling and enjoys experiencing different cultures while viewing how other people live around the world. "I'd love to be able to use my multimedia skills to help people learn about each other. But for fun I also just love hanging out with my friends and trying different foods."
What was your childhood like? Did you immediately gravitate towards basketball at a young age?
As far back as I can remember I've always been interested in art and design, so after high school I enrolled and graduated from Cal Poly Pomona's School of Architecture. My dad, mom, brother, and a lot of my extended family were all UCLA alums so I was naturally indoctrinated into Bruins basketball. My father took great pride in the sanctity of John Wooden's pyramid of success and since we all lived in Los Angeles, my love for basketball naturally extended to the Lakers.
Growing up, I recall wearing blue-and-gold or purple-and-gold t-shirts and watching either UCLA or Laker games on our TV regardless of whatever else was going on. You could always hear the voice of Chick Hearn resonating in the background. Thanks to some family friends, I started actively playing basketball when I was in the 5th grade with the Montebello Jetts through the Japanese American Optimist Club (JAO) and the South East Youth Organization (SEYO). My love for the game grew and I played on my intermediate and high school teams through my senior year. (Shelly was a teammate of Kim Van Horn at Diamond Bar HS, sister of former NBA forward Keith Van Horn)
During the season, it was basketball on weekdays with my school team, then basketball with my JAO and SEYO friends on the weekends. Quite frankly, I was never the star player, but since I had started playing at such a young age, and since it was such a tradition within my family and amongst my friends, it was more of a way of life for me. I really enjoyed spending time with my teammates and being part of the team, not only from a social point-of-view but also from learning how to set goals, persevere and strive towards attaining those goals. Family gatherings typically started with an in-depth analysis and critique about the last Laker or UCLA game. My family can really get into it and basketball has always been an avenue for my father to converse with us and to express his love for us.
How long have you been following the Lakers? What are some of your fondest memories?
I've been a Lakers fan for as long as I can remember. I think my fondest memories were during the 80s. I recall my dad racing my brother and I across town to a Marina Del Rey Bike-a-Thon so we could meet a player my dad recognized as a very promising young superstar named Lew Alcindor, later known as Kareem-Abdul Jabbar… or rushing to a shopping mall out in Whittier to meet a rookie point guard named Earvin Johnson who had just finished leading Michigan State to the NCAA title and who would soon usher in Showtime… or watching Summer League games at Cal State LA and Long Beach State to see the incoming rookies while my dad expertly pointed out who was from where and which ones were going to be the future stars of the NBA.
Although we never missed watching a game on TV, we didn't attend too many games at the Forum. But when we did go, it was nothing less than fabulous. I was mesmerized by the perfect arch of Kareem's skyhook; the extraordinary court vision of Magic Johnson, which gave him the ability to create unfathomable lanes to the basket with his no-look passes; and the unconventional, but smooth-as-silk, behind the head, shot release of Jamaal Wilkes. These were just some of the out-of-this-world feats that we were fortunate enough to witness first-hand. But one Showtime Laker that really caught my eye, was Stormin' Norm Nixon. It was something about the way he could just dart in-and-out of traffic at light-speed that made it the slickest thing I had ever seen.
How did Sasha become your favorite player?
Although I loved all of the Laker greats, other than Norm Nixon, I really didn't have a favorite player until Sasha Vujacic came along. What stood out on that Laker squad was the unique blend of characters and personalities that somehow meshed together despite their contrasting styles. Later, when he became known as the 3-point "Machine" with his Euro-style long hair and headband, it definitely made Sasha stand out even more to me. Aside from his unique style, I also thought it would be really fun and interesting to meet him one day.
A short time later, an opportunity came up for a "Meet-and-Greet Sasha" at an AT&T signing in the South Bay. It was there that I saw first hand that he was also very sincere and kind-hearted. He made a real effort to get to know all of his fans and he displayed a genuine appreciation for each and every one of them. That really made an impression on me.
The loss of both of my grandmothers, whom I was very close to, was a difficult period for my entire family and it left me with a deep sadness that I just couldn't seem to shake. It affected my work and I had trouble coming up with creative inspirations for my design projects so I decided to take a break. Watching Sasha and the Lakers play was one of the few diversions that took me to a happier place. When they made it to the NBA Finals that year (although they eventually lost to the dreaded Boston Celtics), watching Sasha play with his infectious spark rekindled the passion and creative energy within me again.
Sasha is not exactly big in stature, but he is a giant in heart. This, and his determination are what drove him to succeed. And his big heart extends off the court as well. Sasha is a very caring person and he performs countless charity work for children, the afflicted, and the needy. He donates much of his time to these charitable organizations to help bring about better awareness, but more importantly, to give them a voice so that they can be heard. Sasha is a fighter and he brings that tenacity with him whenever dealing with these issues that affect all of us.
There's another trait that I like about Sasha; he never gives up. His team can be down by double-digits in the 4th quarter and Sasha will be the one screaming, "Com'on guys, let's go, we can still win!" And just like that, he'll nail a crazy 3-pointer, igniting the team and the entire arena as well, changing the momentum and giving the team the boost they need to help pull out the win.
What are your duties as part of Sasha's team as Managing Editor?
I started contributing to Sasha's site about a year ago. During the season, Sasha is so busy focusing on basketball that most of the articles I work on are game reports, fan spotlights and interviews Sasha has done. Over the summer, I did a post-season interview over the phone and a couple of other interviews about his time spent in Europe. Whereas I'm not in charge of the overall look of the site, I do create graphics for certain articles and banners, gather photos, as well as develop some videos.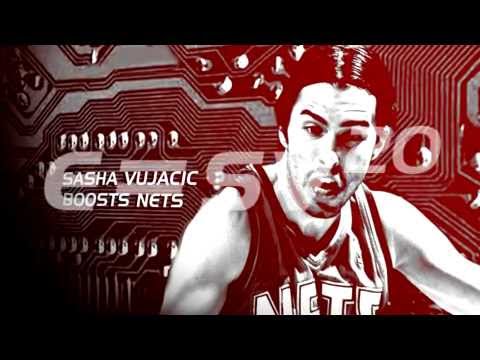 I also try to keep an active connection with his fans and reach out to them regardless of where they're located, such as in New Jersey, when he was with the Nets, and also in Europe, now that he plays in Turkey. After Sasha signed with Anadolu Efes in the Euroleague, I started posting articles and graphics live onto his website to relay what was going on while it was occurring. It's extremely exciting to work on my favorite player's website, but perhaps the most gratifying part is that I've been given the opportunity to utilize my entire background, from my personal experiences of playing basketball, to my design credentials, to my studies abroad in Europe.
In some small way, I feel as if this was meant to be and I've been given an opportunity to draw upon my experiences to express my gratitude back. Although I've never told Sasha this, he was the spark that helped me get my creative energy flowing again. That's a big reason why I'm glad that the lockout was finally resolved. To many, pro sports are their main source of civic pride and joy, and as in my case, basketball has always been a big part of our family life. With its return, we can finally all enjoy the excitement and suspense that's been a part of our lives for as long as I can remember.
Yet, even with the NBA back to business as usual, the shortened training camps and compacted season has made it difficult for a lot of teams, but most noticeably the Lakers. It's difficult for me to watch the team struggle and endure all of the criticism. But no matter what, after all that Kobe Bryant and the rest of the Lakers have done for the City of Los Angeles, I will always stand by them. I am confident that they will rise to the top again.
With Sasha playing in Europe and the NBA underway, what are you looking forward to in the next few months?
I think if the lockout didn't occur, Sasha would have been picked-up by another NBA team. When the Lakers traded him to the Nets, he was given an opportunity to play again. He was instantly rejuvenated and had that spark back in his eye. But when the lockout occurred, no one really knew when or if there was going to be a season. I think he was intent on playing for a full season and he couldn't imagine himself not playing while waiting for the lockout to end, so he immediately made the commitment with the premiere Turkish team, Anadolu Efes.
Sasha has performed very well with Efes, where they have a strong organization rich in history and basketball tradition. Ideally, I hope Sasha and his team continue to play well and make it to the European version of the championship playoffs. Then hopefully, he'll have a chance to come back to the NBA next season, preferably to the Lakers of course. However, he has an option to play another season in Turkey, so the decision is really up to him. He's been playing pro ball since he was 16-yrs old so I have full confidence that he will make the best decision for himself.
I believe that once you're part of a championship with the Lakers, you'll always be a Laker for life. Just like Norm Nixon doing his thing on the Fox Sports broadcasts, I truly believe that Sasha will come back home one day. After the season is over, it's a huge letdown not to see my favorite players everyday. And when they get traded or sign with another team, it's like losing a best friend. Sasha remains extremely popular and his fans constantly post and tweet for him to return to the NBA soon. By the volume of emails I review, I know I'm not the only one who misses Sasha.